Clay | Use of clay in garden | Make soil hold water | Heal plant wounds
Definition of Clay: An earthy material that is plastic when moist but hard when fired, that is composed mainly of fine particles of hydrous aluminum silicates and other minerals, and that is used for brick, tile, and pottery.
Contents
Introduction to Clay and its common types
Clay is a finely-grained natural rock or soil material that combines one or more clay minerals with possible traces of quartz (SiO2), metal oxides (Al2O3 ,MgO etc.) and organic matter. Geologic clay deposits are mostly composed of phyllosilicate minerals containing variable amounts of water trapped in the mineral structure. Clays are plastic due to particle size and geometry as well as water content, and become hard, brittle and non–plastic upon drying or firing. Depending on the soil's content in which it is found, clay can appear in various colours from white to dull grey or brown to deep orange-red.
Depending on the academic source, there are three or four main groups of clays: kaolinite, montmorillonite-smectite, illite, and chlorite. Chlorites are not always considered to be a clay, sometimes being classified as a separate group within the phyllosilicates. There are approximately 30 different types of "pure" clays in these categories, but most "natural" clay deposits are mixtures of these different types, along with other weathered minerals.
Varve (or varved clay) is clay with visible annual layers, which are formed by seasonal deposition of those layers and are marked by differences in erosion and organic content. This type of deposit is common in former glacial lakes. When fine sediments are delivered into the calm waters of these glacial lake basins away from the shoreline, they settle to the lake bed. The resulting seasonal layering is preserved in an even distribution of clay sediment banding.
Quick clay is a unique type of marine clay indigenous to the glaciated terrains of Norway, Canada, Northern Ireland, and Sweden. It is a highly sensitive clay, prone to liquefaction, which has been involved in several deadly landslides.
Uses of Clay in our daily life
I will take this reference in reference to India specifically. In almost every household in India there is something or the other that is made up of clay and is in use every single hour of the day, even if it is the humble " Matka" or the earthen pot made from terracotta clay or in references to garden it may be a clay planter. Some families also have earthen/clay cooking ware to boost of.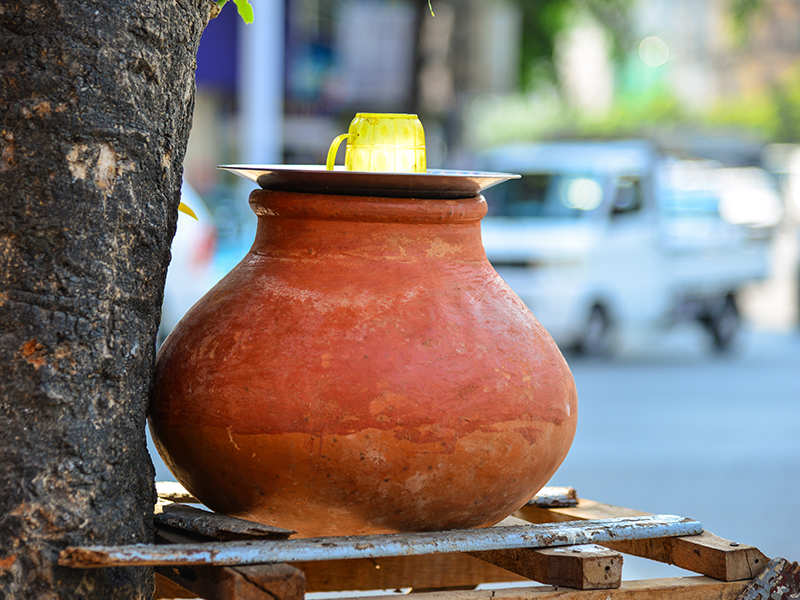 Apart from these common uses of clay, there are other uses like in cosmetic industry to manufacture fuller's earth or the healing clay, de-tox clay capsules, in paint industry to thicken the paint, construction industry, petroleum extraction, even aircraft industry is finding uses of clay to manufacture carbon and ceramic nano composites for aircraft manufacturing, it is also used in production of fertilizer granules, the list goes on and on almost every industry has benefited from one or the other type of clay. The clay used in ceramic industry is mainly Kaolin, however other clays are also used in pottery works.
Clay and Garden : The Eternal bond
We gardener's are used to Fired clay planters for planting our beloved pots. as they keep the soil cooler in blistering heat of Indian summer. But there are more uses than this, it can very well be used as a soil amendment, sealing the plant bed base, sealing ponds, healing your plant wounds. There are many plant varieties that thrive in clay soils, it can make you lawn more water conserving and can make grass look greener on your side :-). Let us now take a look at all of these one by one.
Use of clay in garden as soil amendment
The clay that we are discussing here and will continue with, is a type of Montmorillonite. Montmorillonite clays have a 2:1 lattice structure that can absorb large amounts of water. The clay that contains these and the one we are talking about is called Bentonite. Bentonite usually forms from the weathering of volcanic ash, most often in the presence of water. Geologically it is a aluminum phyllosilicate material, a type of clay mineral mainly composed of montmorillonite. There are several types of Bentonite subdivided into Calcium Bentonite, Sodium Bentonite, Potassium Bentonite, etc. each with different properties. Sodium Bentonite can hold 15-20 times its weight in water and is used for sealing ponds. Bentonite when exposed to water swells enormously hence it is used to seal ponds and even geosynthetic liners.
Calcium Bentonite can only hold 1-5 times its weight in water and is used in gardening as it is more stable. Calcium Bentonite stores and releases water much easier than other types of clays. Bentonite clay has hundreds to thousands of times more surface area than sand particles hence it improves nutrient holding capacity of soils and helps provide a better home for soil microorganisms.
It is widely used to improve poor soils in gardening in particular sandy soils. Small amounts of Bentonite have been shown to increase growth rates and yields of many plants in sandy soils. It only works in conjunction with other organic soil amendments (compost, manures, native mulches, etc.). Rather I would suggest that while you are making a new garden Bed and you have a sandy soil or soil type which is not able to hold moisture or nutrients well, this is you one stop solution to fix it once and for all. Mix the native soil with compost and Bentonite you may try 1:1:1 ratio or make your own to suit your application. You may require anywhere between 4 – 10 pounds of this clay when mixed with Organic matter. Word of caution: Do not use Bentonite with Sandy soils without mixing organic matter, else it will create a concrete like mixture. Organic matter can be simple farm yard manure, you decomposed kitchen waste, vermicompost, leaf mold, Mushroom compost, etc. This way Bentonite can improve the Cation-Exchange-Capacity of the soil.
What is Cation-Exchange-capacity (CEC for brief)? Cation exchange capacity (CEC) is the total capacity of a soil to hold exchangeable cations. It influences the soil's ability to hold onto essential nutrients and provides a buffer against soil acidification.
A soil with good CEC helps you reduce the application of fertilizers. Hence mix Bentonite with Organic matter and improve the sandy soils.
What to do if there are plants already in the bed, can I still use it? The answer is yes, Use Suspension class bentonite make a suspension in water and mix it well, use paint mixers for large application. You may choose to use your home blender for this purpose if the requirements are smaller. Mix it Well, the simple sign of a good mix it that at the end of mixing there would be not clay clumps in the solution and the clay in suspension will take 12 – 24 hours to settle. Pour this suspension on the bed and let earthworms and other soil organisms help you disperse it well. You may have to reapply after a couple of months till you get the desired properties you are looking for.
Can I use it for my new lawn bed, or in my existing lawn bed? Yes, you can use Clay in two ways if you are making a new Lawn Bed.
Spread clay layer to a height of 1 Inch, this will act as a base for your new lawn bed. The expected result of this method is, it will help absorb more water and you will have to water less frequently. Secondly the High CEC will help retain nutrients in the bed and help reduce their loss and you will be able to reduce fertilizer expenses.
Mix Clay and organic matter and use it to make the Bed.
Use Clay Suspension. Pour this suspension onto your existing lawn bed and let it get assimilated into the bed, reapply as required.
The above list of methods can very well be used to make other plant beds like for vegetables, flowers etc.
Use of clay for healing plant wounds
When we get hurt, there are lots of creams, ointments, bandages to help us cover our wounds, is there anything for plants. Well the short answer is yes. A plant or tree can get wounds due to a number of reasons like an accident, an agriculture practise, heavy peeling of bark, an infection, etc. It is advisable to cover these wounds to allow them to heal and avoid infections in these areas.
All you have to do is mix haldi (turmeric) with this clay in a ratio 1:2 that is 1 part haldi and two parts clay, make a paste of it and apply it on the wound in a similar fashion as you would apply cream or ointment on your wounds. This will not only seal it but will also disinfect the area.
Spray on leaves to help protect against insects, disease and sunburn. Many gardeners have found that dissolving small amounts of Bentonite in water and then spraying on the foliage of their plants protects against insect, disease and sunburn damage. If you do this always mix in a tablespoon of liquid kitchen dish soap per two gallons of water to act as a surfactant.
Use of clay while transplanting seedlings/plants.
Maximum number of plant deaths occur while during transplanting, the shock that arises from the transplanting claims a big toll if not done properly. Do you know clay can help you reduce this loss of plants?
Make a clay suspension using the method given above, dip the roots of the plant (being transplanted) prior to replanting. This will help plant cope better with transplanting shock.
Further Reading/References
Buy Authentic Calcium Bentonite for your Garden